QUALITY
---
RACI QUALITY MANAGEMENT SYSTEM
The quality management system is a key tool for RACI, who always wanted to stand out and remain in a position of excellence on the Italian and export market.
The process approach allows us to manage manufacturing phases in an interdisciplinary way, involving different areas of the company, to ensure the customer a reliable product with constant quality and the pursuit of continuous internal improvement in view of the final customer satisfaction.
See our updated environmental and quality policy.
Our QMS is in compliance with all the requirements of International standard UNI EN ISO 9001 since 1994, today is valid for the following processes:
Design, production and trading of regulating, control and shut off devices, junction, connection and repair system for waterworks, gas distribution and fire-fighting plants.
Design and production of protection and insulating systems for waterworks and gas distribution.
Trading of anticorrosion coatings, materials for pipelines marking, pipes for waterworks and fire-fighting systems.

The choice of high-quality raw materials, materials certified according to the most stringent Italian and international regulations, the control of casting process, machinating process and fluid bed coating and the constant monitoring of quality of semi-finished products during the assembly phase, constitute basic elements for the realization of the product in raci trade mark.
Only in this way the products will be distinguished in terms of:
Reliability and ease of maintenance
Ease of Installation
Duration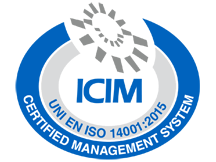 RACI decided to adopt and implement a Management System compliant with the international reference standards in terms of Quality (UNI EN ISO 9001:2015) and Environment (UNI EN ISO 14001:2015) and wants to develop and improve its products suitable for waterworks to improve their efficiency and safeguard a precious asset such as drinking water.
RACI intends to spread the culture of water saving by proposing safe and innovative products for drinking water, both for the efficiency of existing waterworks and for the safe and reliable construction of new ones.

The valves, the saddles, the hydrants and the air valves with RACI's mark are assembled and tested in our factory in Casaletto Vaprio, where we have 6 assembling and testing lines dedicated to every type of product.

Product certification
The Product Certification, both voluntary or regulated, is an indispensable tool for companies wishing to demonstrate over time the quality and validity of their product.
When it is voluntary, it is a marketing and communication tool to differentiate themselves from the competition, when it is regulated, it becomes mandatory for access to regulated markets.
Obtaining a certified product is a complex process, developed in three phases:
Phase I: type tests to verify that the product conforms to national or international standards or, in their absence, with dedicated test protocols;

Phase II: evaluation of the processes and the quality system used by RACI to ensure the maintenance over time of the features on the sample submitted for type testing (manufacturing procedures, control, verification of testing equipment);

Phase III: once obtained the product certification and therefore the third party's brand, third-party inspectors regularly verify that the company continues to apply the quality assurance procedures and to keep the test equipment efficiency and calibrated so that the certified products do not have undergone changes that may impact on their compliance and can be constructed consistently with the quality and safety standards that have allowed obtaining a product brand.
RACI certified products: GATE VALVES
We decided to certify gate valves according to UNI EN 1074, and - first in Italy - passed the testing with PN 25 model and obtained the certification in "resistance class 2" according to EN 1171.
RACI certified products: SERVICE VALVES
RACI decided to certify service valves (both straight and angle model) according to UNI EN 1074, to ensure a constant and lasting performance of its products.
RACI certified products: HYDRANTS
Our hydrants model Omero type A (rigid type) and type C (break away type) have the CE mark according to UE 305/2011 (construction products).
Our underground hydrants model Virgilio have the CE mark according to UE 305/2011 (construction products).