SPECIAL FEATURES:
Universal connector with large range (up to 54 mm) for CI, DI, steel, AC, PVC and PEAD pipes.
Body and compression ring high quality EPOXY powder coated (fusion bonded), coating thickness (DFT min. 250 microns).
Special tightening system with one bolt resp. two bolts for DN≥300 dimensions.
Internal compression ring and bolt/nut/washer from fully corrosion-free material.
Dual-gasket pressure assisted hydraulic sealing system.
The gasket is made in two layers, with a removable inner layer that allows for pipe diameter range expansion.
Easily to be handled by one person even up to big diameters.
Model 9320 non-restraint type, it is suggested the anchoring of pipeline.
Ask to raci for ranges and availability of model 9330 (restraint).
MATERIALS:
Body:
Steel S235JR EN 10250 (equivalent to UNI Fe360B DIN St37.2)
Compression ring:
Steel S235JR EN 10250 (equivalent to UNI Fe360B DIN St37.2)
Gasket:
EPDM Rubber, potable water approved
Internal compression ring, bolts/nuts/washers:
Stainless steel 1.4301 EN ISO 10088 (equivalent to AISI 304), with special anti-friction treatment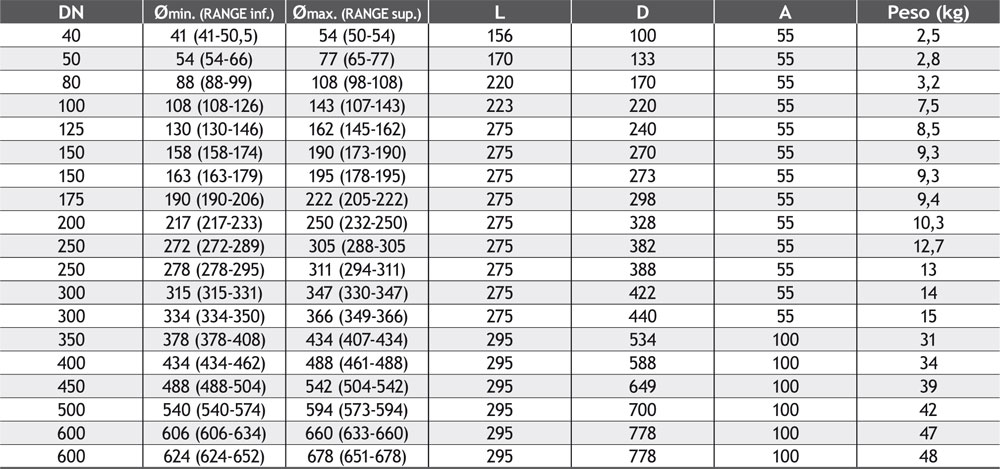 All metal, rubber, and coatings used have been designed for contact with water for human consumption, pursuant to the terms of Italian Health Ministry decree n° 174, dated 6/4/2004.