The encapsulating system "SERIES 6" was designed by ALH Systems Ltd to eliminate the gas losses on lead yarn joints into cast iron pipelines with socket joints.
Series Six is a two-part polyurethane external repair system for mechanical joints on low and medium pressure gas distribution mains. The technique can be used for all types of joints, including valves and tees, up to 48" in any situation. The kits are fully effective in heavy traffic and high vibration areas.
This sealing system relies on the principle of encapsulation of the entire joint in a muffle suitable to be applied externally to the joint and closed by means of hinge.
Series 6 system is successfully used since many years by several gas municipalities in Italy, including UNARETI Milano and Toscana Energia.
The "SERIE 6" kit is composed by:
muffle made by synthetic canvas, tear resistant, resistant to oils, diluted acids, microorganisms, mold and bacteria, ideal for underground installation;
tightening bandings for the muffle, realized with synthetic nylon material or steel for big dimensions;
base component for sealing;
additive component to the base, hardener, for sealing;
primer for adhesion treatment on the surfaces of joint;
brush for the application of the primer;
rod and metal wire for closing the muffle;
protective gloves.
The sealing system must be applied after a suitable cleaning and priming of the joint surfaces, as the sealant material that will be introduced in the muffle becomes effective only if its adhesion on surfaces is assured by adequate preparation.
In order to ensure adequate preparation of the technical installers and correct application of the product, RACI organizes a training service in the field, with a practical training course designed by our specialized technicians. The course is held in conjunction with a leakage repair, and it is organized by the customer - if possible - so that more muffles are available on site, depending on the number of operators to qualify, in this way everyone can make at least one application after the demonstration.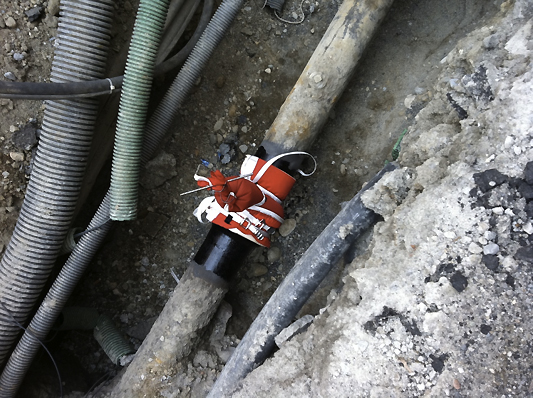 At the end of the course, after the good result of final practical test, the students receive a certificate of attendance in name.